Corporate Social Responsibility
Embracing Well-being, Enriching Communities.
Nurturing

Communities

, Cultivating Wellness
Embracing our societal duty, VAN Ltd. intertwines traditional Ayurvedic practices with impactful Corporate Social Responsibility (CSR) initiatives. Engaging in mindful actions, we work towards sustaining communities, preserving traditions, and propagating holistic wellness, ensuring the profound wisdom of Ayurveda cascades through generations and across diverse communities. Join us on a journey where profound wellness and heartfelt social responsibility converge to create a harmonious future.
Caring For Eyes
Dwibhashyam Venkata Sreeramamurthy, Chairman and Managing Director, Venkateshwara Ayurveda Nilayam, Limited Donated ₹ 1,75,000 through Sree Charitable Trust to Sankurathri Foundation of Sri Kiran Eye Hospital.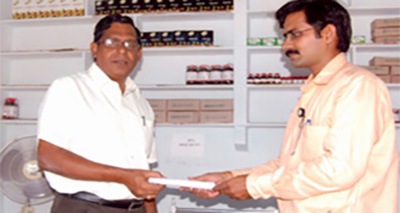 Sustaining Rural Livelihoods
As a part of its social responsibility and in keeping with its policy of helping Girijan (from rural areas of Andhra Pradesh) VAN Ltd. purchases it's requirement of honey (annually 12 tons) from Girijan co.op society (G.C.C.). Photograph shows our executive handing over the cheque to G.C.C. Manager.
Spotlight on Herbal Heritage
State level conference Medicinal Plants Traditional Cure held at Smt. Kandukuri Rajyalakshmi College, Rajahmundry dt. 13th & 14th March 1999 sponsored by UGC.
Empowering Farmers
In order to enable the farmer to get the right price for his produce, VAN Ltd. purchases herbs directly from the farmers. We have eliminated the middleman in the process. Photograph shows our executive handing over cheque directly to the farmer for purchases of herbs.
Vibrant Gatherings
A.P. Ayurvedic Medical Officers Association held at Vijayawada 19th January 2000.
Discover the Power of Ayurveda for Optimal Health and Well-being
Unlock Ancient Wisdom for Modern Healing with Vanchintaluru's Authentic Ayurvedic Solutions.