Harmonizing Mind, Body, and Spirit Through Ancient Practices.
The term `yoga' comes from a Sanskrit word which means 'yoke' or `union'. Traditionally, yoga is a method joining the individual self with the Divine, Universal Spirit, or Cosmic Consciousness. Physical and mental exercises are designed to help achieve this goal, also called self-transcendence or enlightenment. On the physical level, yoga postures, called asanas, are designed to tone, strengthen, and align the body. These postures are performed to make the spine supple and healthy and to promote blood flow to all the organs, glands, and tissues, keeping all the bodily systems healthy. On the mental level, yoga uses breathing techniques (pranayama) and meditation (dyana) to quiet, clarify, and discipline the mind. However, experts are quick to point out that yoga is not a religion, but a way of living with health and peace of mind as its aims.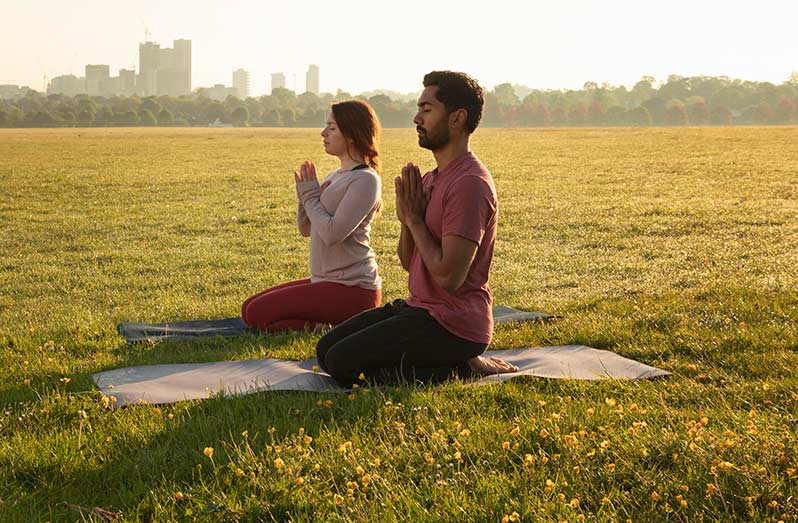 Yoga has been used to alleviate problems associated with high blood pressure, high cholesterol, migraine headaches, asthma, shallow breathing, backaches, constipation, diabetes, menopause, multiple sclerosis, varicose veins, carpal tunnel syndrome and many chronic illnesses. It also has been studied and approved for its ability to promote relaxation and reduce stress.
Yoga can also provide the same benefits as any well-designed exercise program, increasing general health and stamina, reducing stress, and improving those conditions brought about by sedentary lifestyles. Yoga has the added advantage of being a low-impact activity that uses only gravity as resistance, which makes it an excellent physical therapy routine; certain yoga postures can be safely used to strengthen and balance all parts of the body.
Meditation has been much studied and approved for its benefits in reducing stress-related conditions. Currently, the American Medical Association recommends meditation techniques as a first step before medication for borderline hypertension cases.
People with injuries, medical conditions, or spinal problems should consult a doctor before beginning yoga. Those with medical conditions should find a yoga teacher who is familiar with their type of problem and who is willing to give them individual attention. Pregnant women can benefit from yoga, but should always be guided by an experienced teacher. Certain yoga positions should not be performed with a fever, or during menstruation. Beginners should exercise care and concentration when performing yoga postures, and not try to stretch too much too quickly, as injury could result. Some advanced yoga postures, like the headstand and full lotus position, can be difficult and require strength, flexibility, and gradual preparation, so beginners should get the help of a teacher before attempting them.
Some people have reported injuries by performing yoga postures without proper form or concentration, or by attempting difficult positions without working up to them gradually or having appropriate supervision. Beginners sometimes report muscle soreness and fatigue after performing yoga, but these side effects diminish with practice.
Ayurveda and yoga are sister Vedic sciences that have been united for thousands of years for the sake of healing body, mind, and consciousness. Generally speaking, Ayurveda deals more with the health of the body, while yoga deals with purifying the mind and consciousness, but in reality they complement and embrace each other.
`Meditation' is a practice of concentrated focus upon a sound, object, visualization, the breath, movement, or attention itself in order to increase awareness of the present moment, reduce stress, promote relaxation, and enhance personal and spiritual growth.
Meditation benefits people with or without acute medical illness or stress. People who meditate regularly have been shown to feel less anxiety and depression. Regular meditation can reduce the number of symptoms experienced by patients with a wide range of illnesses and disorders. Based upon clinical evidence as well as theoretical understanding, meditation is considered to be one of the better therapies for panic disorder, generalized anxiety disorder, substance dependence and abuse, ulcers, colitis, chronic pain, psoriasis, and dysthymic disorder.
It is considered to be a valuable adjunctive therapy for moderate hypertension (high blood pressure), prevention of cardiac arrest (heart attack), prevention of atherosclerosis (hardening of arteries), arthritis (including fibromyalgia), cancer, insomnia, migraine, and prevention of stroke. Meditation may also be a valuable complementary therapy for allergies and asthma because of the role stress plays in these conditions. Meditative practices have been reported to improve function or reduce symptoms in patients with some neurological disorders as well. These include people with Parkinson's disease, people who experience fatigue with multiple sclerosis, and people with epilepsy who are resistant to standard treatment.
Meditation may not be recommended for people with psychotic disorders, severe depression, and other severe personality disorders unless they are also receiving psychological or medical treatment.
There are no reported side effects from meditation except for positive benefits.
Ayurveda and Meditation originated in India some 6000 years ago. Since time immemorial, Ayurveda and Meditation is practiced by the saints and sadhus of India. Ayurveda & Meditation is the natural way of cure for all body, mind and soul, practised in India when life was yet to start in other parts of the world. Today, Ayurveda and Meditation has become the first preference of every person all over the world for not only its vastness of curing capacity but also for it does not have any side effects, if taken under proper guidance. A tradition of health care that cannot still be explained by the strict logic and theories of modern medicine. And yet cures many diseases incurable to modern medicine. This green medicine is the most ideal way of medication to keep the body, mind and soul in balance.
Discover the Power of Ayurveda for Optimal Health and Well-being
Unlock Ancient Wisdom for Modern Healing with Vanchintaluru's Authentic Ayurvedic Solutions.